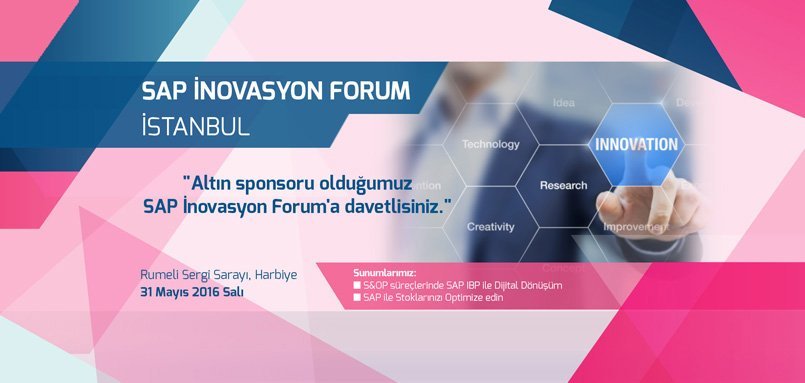 Are you prepared for innovation?
Shape your company by imagining it again in today's world where digitalization becomes more widespread every day. Experience the new technologies of SAP that are steering the digital economy at SAP Innovation Forum which will be held in Istanbul on Tuesday, 31st May 2016. IMPROVA leading the way among the most innovative SAP business partners with their innovative solutions participates SAP Innovation Forum where the newest solution and the newest technologies will be described, and which will be supported with the success stories and case analyses of innovative products.
IMPROVA is providing contribution to one of the main themes of the forum, which is The Supply Chain with two presentations with the titles of "Integrated Business Planning" and "Stock Optimization".
Our Presentations:
12:00-12:25 Optimize Your Stocks with SAP
The way of minimizing your stocks without compromising the customer services and resource capacity usage rates goes through SAP Enterprise Inventory Optimization product. Hear about the ways of minimizing stock costs without finding yourself in stock out position at all points in your supply chain from us.
14:55-15:20 Digital Transition in S&OP Processes with SAP IBP
With SAP IBP the new generation Integrated Business Planning product of SAP, incorporate your financial planning steps into the process by getting one step further from the scope of the classical S&OP. While being able to manage your planning processes in real time, optimize demand-supply-money balance in your company y using interactive simulation methods and flexible Excel interfaces.
You can access Events Calendar from here .